Uniformed Swingers Ads

Lifestyle Clubs & Parties

Swinging Holidays
Swingers in Uniform - Swingers Contacts
Welcome to Swingers in Uniform.
Modern swinging started out in American airforce bases in the 1950's, since then it has spread through all branches of the military and civilian life both in the USA, Canada, Europe and Australia.
We have built Swingers in Uniform to enable people in uniform contact people who enjoy hooking up for NSA sex with civilian admirers.
Every one is welcome to join in the fun - Soldiers, Doctors, Sailors, Pilots, Firemen, Nurses, Doctors - anyone who wears a uniform, or wants to hook up someone who wears one.
The site is Free to join and has many Free features, to get full benefit you need to become a full member, but you can search the profiles, write to our VIP members, use the chat rooms, read the forums all for free. So come on in and join the fun now.
We are very aware of how many military personnel are into the swinging scene, having had NSA swinging fun with couples, single swinging ladies and single men in uniform in these bases: USA marine base in San Diego, California, RAF Brize Norton, UK; RAF St.Mawgan, Cornwall, UK; JHQ, Munchen Gladbach, Germany; and RAF Wyton, UK. Wherever you are based, there are people on base and in the local community waiting to meet you for some swinging fun.
During our swinging adventures we have also met with Nurses, Doctors, Prison Officers and Police personnel in various locations in the UK, USA, Spain and Netherlands. Wherever we visit there are always swingers in uniform waiting to meet new people for no strings attached sex.
We are here to help you meet up with other Swingers in Uniform in your area, or with strangers in uniform when you go on vacation.
Talking of vacations, do you fancy a holiday just for adults? We have collected together details of "Swingers Lifestyle Holidays" in many countries including; Swingers Resorts, Swingers Hotels, Swingers weekend breaks and even swingers camping holidays.
We have also searched the web and built a list of swingers clubs in over 40 countries around the world, so no matter where you go on your holiday, we should have a club listed near you.
If you are new to the Swinging Lifestyle, and want to know what swinging is all about, browse through the pages in the menus that explain what swinging is about and how and where to get involved. Everyone can benefit from reviewing Swinging Manners, as we all forget how to behave sometimes.
We have also answered some of the questions we have received about the risks involved with swinging, and what you can do to minimize these.
If you have information about clubs that we don't have listed, we would appreciate you taking a few minutes to tell us about them, drop us a line at david@ddproductions.co.uk, and we will add them to the list.
We hope you enjoy the site
Jo & David
---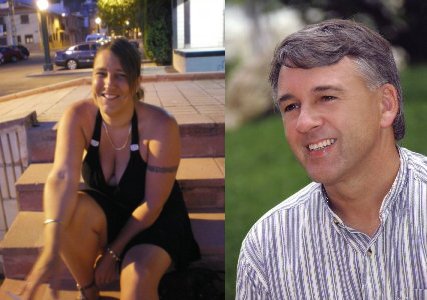 We are Jo and David your webmasters, we have been swinging for many years and helping swingers make contact on the internet since 1998. We now live in Spain where we run swingers parties and weekend breaks for swingers.
If you are based in Europe and are looking for a swingers break in Spain, or if you want to attend on of our parties and make a long weekend of it, check out our Swing Holiday Spain website for details of our weekend breaks.
We are also an exhibitionist couple and have put together a 100% free site of photographs of us and some of our playmates getting down and dirty. Visit www.joanddavid.com to see the pictures.
We run swingers social nights once a month, usually in Benidorm on the Spanish Costa Blanca. Everyone is welcome to come along and make new friends in a non-pressured environment.
Our swingers contact web sites, like all reputable swingers sites, are aimed at adults over the age of 18. Sadly many people feel the need to take and publish pictures of children. We run a website providing information on where to report child pornography and child abuse in your country, click the graphic to be taken to the site, have a read, and any help or advice you can give us with this project will be gladly accepted.